ARP® Expands Product Guide For GM LS/LT Applications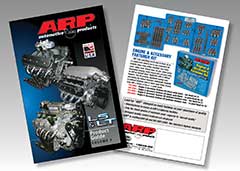 Industry-leading high performance fastener manufacturer ARP® continues to develop products for the latest applications and has recently added over 60 part numbers for late model LS and LT-series engines. ARP's entire collection of fasteners for GM's newest small block V-8s is chronicled in a handy 16-page Product Guide.
Included are important internal components, like head and main studs (and bolts) and connecting rod bolts, engineered to provide an extra margin of safety (25% or more) over factory TTY (Torque-To-Yield) bolts that are yielded by design and not intended for performance increases. And because they are yielded, factory TTY bolts should never be re-used.
ARP® also manufactures a wide variety of polished stainless steel and black oxide finished 8740 chrome moly bolts for attaching most anything to the LS/LT powerplants. They're both rated at 170,000 psi tensile strength and substantially stronger than Grade 8 hardware.
Polished stainless and 8740 fasteners (12-point or hex) are available in a complete Engine & Accessory Fastener Kit, by application, or by size in handy 5-packs.
The LS/LT Product Guide is available for immediate download on ARP's website—as is the complete catalog. A free printed copy of the catalog is available upon request. Visit www.ARP-bolts.com or call +1 (805) 339-2200.